The summer season is winding down. Labor Day marks the unofficial end of summer and segue into fall. How will you mark the end of summer?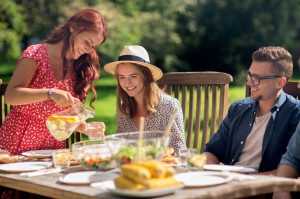 Bake up something festive
Labor Day gives you an opportunity to create some fun, patriotic foods. Pies and cupcakes are a Labor Day favorite – with the weather cooling down, bakers can get back to business. Cupcakes are easily frosted in red, white and blue; and pies featuring fruits like strawberries and blueberries are a great nod to both the holiday and the end of summer. We've got you covered with any baking supplies you need.
Take care of your lawn
The introduction to another fall means that there are some lawn care maintenance items to pay attention to. Fertilizing grass with a specific fall fertilizer can help prep your lawn for the weather change. If you're hosting a Labor Day get together, you'll want to make sure grass is trimmed and edged. It's also a good opportunity to start stocking up on lawn bags, check that your rakes are in good shape, and ensure that you're prepared for all the outdoor changes that a new season will bring.
Take care of any lingering projects
With summer fading, cool weather, snow, rain and other seasonal changes are on the horizon. Are there any outdoor projects you need to finish before fall hits in full? Outdoor painting projects, gardening prep, fence staining, driveway resurfacing and other home improvement projects should be wrapped up before it gets too cold or wet. Don't leave your projects to the last minute.
Whether it's patriotic party prep or project inspiration and supplies, we can help you stock up for the end of summer. We've got your barbecue and baking supplies as well as outdoor items and tools to help you complete home improvement projects. Goodbye summer, hello autumn!
Recent Posts
Corningware Classic Cookware Set is a popular choice for many households. This cookware set is made …

Are you searching for the perfect gift for a newlywed couple or a homeowner? Look no further than&nb …

Have you ever found yourself in a situation where you need to replace a Pyrex lid but need to know h …