The craftsmanship that has gone into a Pyrex bowl is evident to me the moment I pick one up. From the light dancing on the blue-green layers of the tempered glass to the cool heft of the material in my arms, everything whispers, "I am a treasure." As I appreciate the cold glass against fingertips, the fractured and dancing light, the smoothness and precision of the rounded outsides, I am in awed respect of the sensations that leap from the glass itself. An entirely separate experience takes place when the time comes to actually use the bowl.
The tables of my childhood were adorned with Pyrex glass mixing bowls. Whether filled to their brims with popcorn and chips during a party or coated in stripes of deep brown cake batter that had been mixed up and scraped out by my mother, Pyrex mixing bowls are a staple of my childhood memories. Sweet treats and savory snacks alike could be ogled through the blessedly clear sides of a Pyrex bowl. From my standing position of only 3 feet tall—eye level to the table—I could stare at the bulbous round dishes and imagine the flavors of the food they held, and I would lick my lips in hopeful anticipation. Another great thing about Pyrex mixing bowls is their large, sturdy lip, which offers the intended user a place to grasp the dish while swirling a spoon around inside of it. That convenient glass lip also makes carrying Pyrex bowls full of food a little easier for a hungry 4-year-old...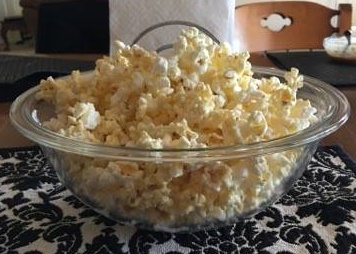 However, the Pyrex bowls from my childhood were missing one important piece: the reusable plastic lids. There's no telling what year my mother's Pyrex lids hit the dishwasher's heating element and melted into oblivion. There's no way to know what year my brothers used them all as Frisbees and the neighbor's dog, Bo, chewed holes in each one. All I remember is the way the plastic wrap would swell and sink down over our frozen corn during and after heating up in the microwave. There was a billow of steam when someone bravely peeled back the edge of the Saran Wrap. If only my mother had known about Pyrex replacement lids! They are microwave safe, so they can be loosely applied to the top of any dish to prevent splatters and eruptions during reheating.
There exist Pyrex lids in every color imaginable, to fit nicely with any décor imaginable. Whether a user wants to color-code their lids with the type of food stored in the Pyrex bowls (purple for fruit, green for veggies, red for meat, etc), or if they want every lid to match their signature pink sofa, Helton Tool & Home has our customers covered with lid options. We even have No Leak Lids, which feature a vent for microwave reheating and a large clear window so users can more easily identify the contents of their dish. Our most popular replacement lid is the 7201-PC, which is designed to fit the 4-cup Simply Store bowl. We also carry plastic covers for Pyrex bakeware and covers for dishes by Corelle and Corningware.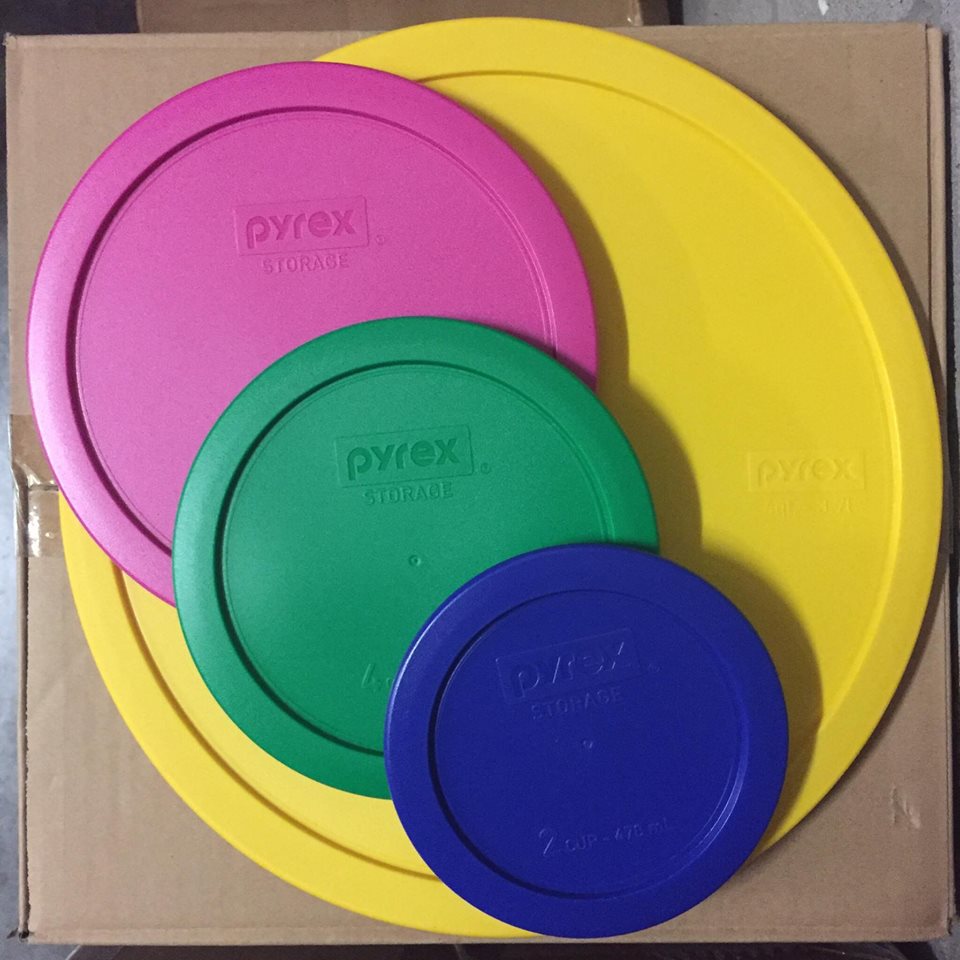 While the bowls of my youth were always crystal clear, some of the Pyrex storage bowls we now carry feature patterns, such as ghosts, snowflakes, or gingham plaid. These decorated pieces offer another level of customization for users who simply cannot get enough Pyrex. Our customers are encouraged to mix and match bowls and lids to determine the best set for their lifestyle. If someone does a lot of baking, they might lean towards our medium glass mixing bowl, model 325. If someone is more interested in meal prep and planning and taking food on the go, they might look into our storage bowls, which we currently offer in 1 cup and 2 cup sizes. Both varieties of bowls stack beautifully, so users can enjoy less clutter in their kitchens.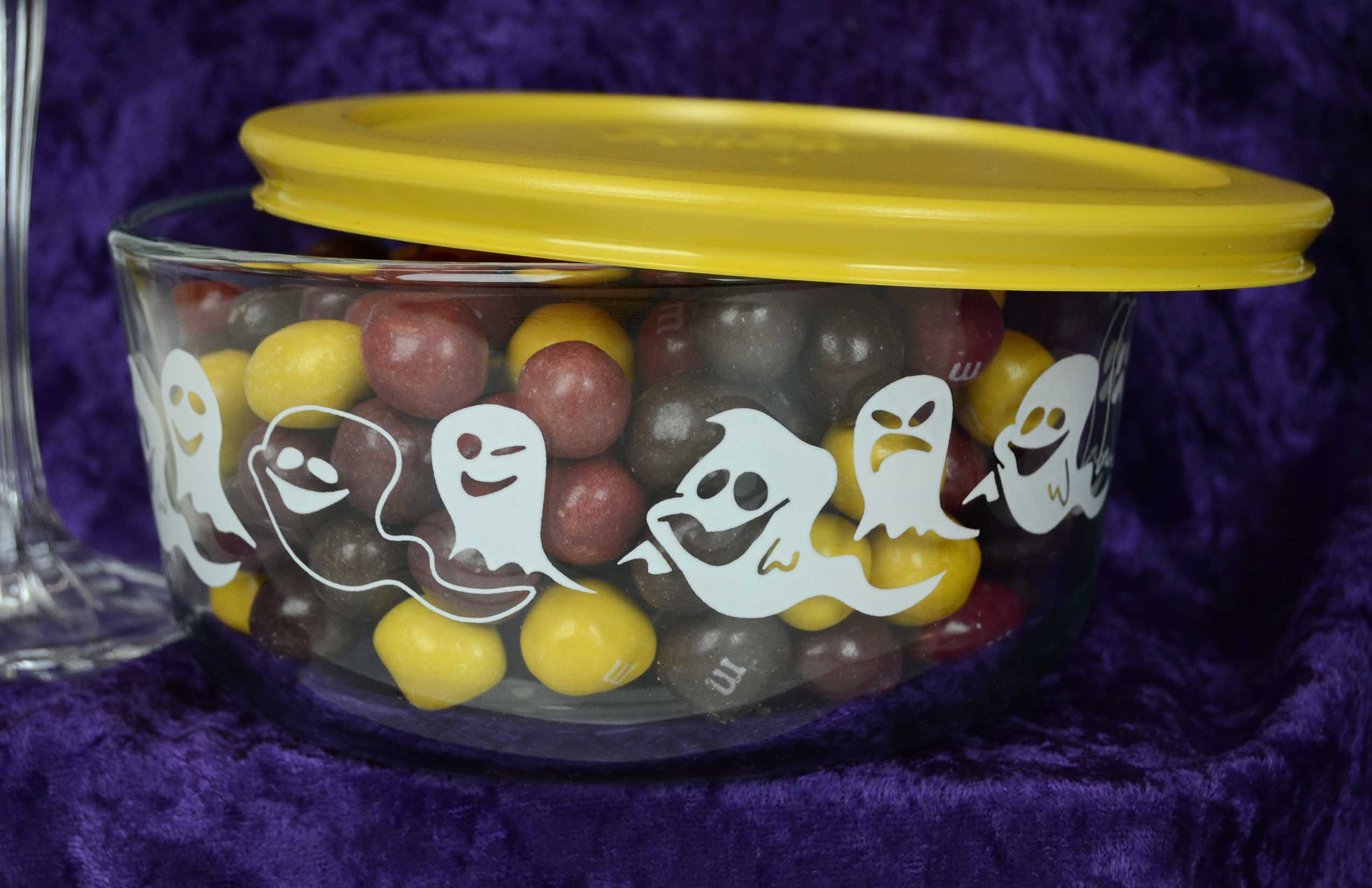 Another thing users can enjoy from these bowls is their versatility! There's virtually no limit to where these bowls can be used—except under the broiler. Please don't use them under the broiler!
Feel free to use them in a pre-heated oven, however. They are also safe for use in the freezer and refrigerator. While some users might enjoy the experience of hand-washing these bowls, (thanks to all the aesthetic reasons cited above,) they are completely safe for use in the dishwasher.
Now that I am an adult with a home and kitchen of my own, a couple of the Pyrex mixing bowls from my childhood now adorn my cupboard shelves. These 30-year-old bowls still look almost as good as the new bowls I have collected along the way, and they still perform equally well. For anyone who enjoys food at any stage—during preparation, cooking, or exclusively when feasting—Pyrex mixing bowls, storage bowls, and plastic replacement lids are the perfect addition to your kitchen.
Recent Posts
Corningware Classic Cookware Set is a popular choice for many households. This cookware set is made …

Are you searching for the perfect gift for a newlywed couple or a homeowner? Look no further than&nb …

Have you ever found yourself in a situation where you need to replace a Pyrex lid but need to know h …