The Internet has changed many social and cultural aspects of our lives, but have you ever thought about how much the Internet has changed how we cook? Think about it this way…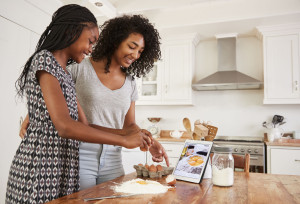 Finding quality recipes is easier than ever. Instead of buying a cookbook full of dozens of recipes we may or may not like, we can simply Google any recipe we can think of and come up with hundreds of results. It's so easy to determine which recipe is best because you can compare ten of them side by side. Most recipes even have a list of comments and a star rating, so it's easy to see which ones are winners.
Following a recipe with precision is possible at any skill level. Gone are the days of trying to interpret the unintelligible scribbles on an index card from a neighbor. Gone are the days of trying to assemble ingredients and taking notes while watching live TV. Today, we have access to hundreds of online cooking videos that we can select, view and then pause at our leisure to make sure we hear every detail.
Keeping your recipes in order is simple, too. While many people still get recipes from family members and tab pages in cook books, many people skip all that and stick to recipes from blogs. It's easy to keep track of your collection when they're all in your bookmarks or on the same Pinterest board.
Sharing your creations with the world is a piece of cake. Whether you've made a tantalizing dessert or an impressive homemade pizza, it's easy to snap a photo your smart phone and share your photo on social media with all your friends and family. Those photos, in turn, inspire others to make our recipes and approving comments make us proud of our work.