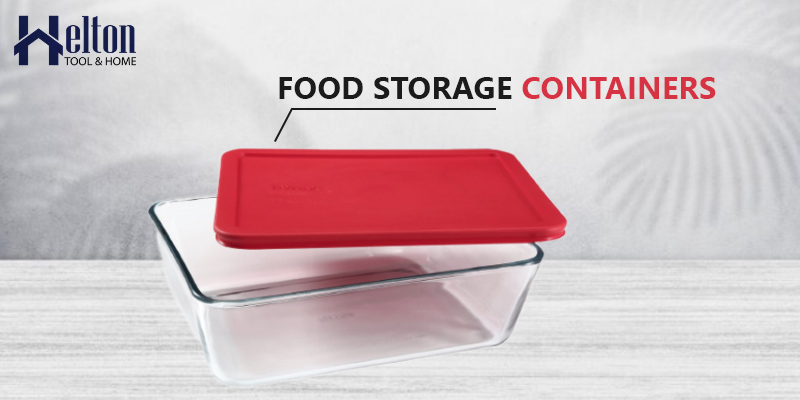 When it comes to food storage containers, glass is one of the best materials. Their durability and non-toxicity make them an excellent choice for storing food and beverages.
Glass containers with BPA-free plastic lids ensure the food remains fresh for a long time. Not just that, it also helps in safe food handling. To get the most out of your glass food storage containers, it is important to use them correctly. By following proper storage practices, you can maximize the benefits.
Find out some of the best food storage methods using glass containers.
Choose high-quality glass containers
The first step is choosing the best-quality glass containers for food storage. It is important to choose high-quality, food-grade glass food storage containers for food safety.
Pyrex is a popular brand that offers glass food storage solutions for every kitchen. You can use the containers for cooking, serving, storing or while traveling. In addition, the Pyrex glass containers are microwave, refrigerator, freezer, and dishwasher safe. And the lid is made of BPA-free plastic and is completely safe for food.
For the best results, choose glass storage containers from trusted brands like Pyrex. You have plenty of options to choose from.
Why proper storage is essential
Proper food storage is important for a variety of reasons. You can keep the food items fresh and tasty for a long time. Not all kinds of glass storage containers have this capacity. For instance, the food might be in good condition, but it is not fresh anymore. With the right storage containers, you can ensure proper storage and maintain the quality of the food.
Proper storage can reduce waste by preventing leftovers from spoiling. You can easily microwave the food in the container and eat it.
If you are into meal preparation, then high-quality glass food storage containers are the best. You can easily store food for the whole week using glass storage containers with BPA-free plastic lids.
Before sealing the containers
If the food is still hot, allow it to cool down before putting it in the containers and sealing them. Hot food can lead to condensation and can affect the quality of the food. Use glass containers that come with well-fitting lids. This way, you will be able to retain the freshness of the food and avoid spillage.
Even though glass containers are freezing and microwave-safe, avoid directly transferring the cold containers to a hot microwave or hot food into a freezer. Wait for some time to allow the containers and their contents to come to room temperature.
Leave some space in the containers
When storing food in the glass container, make sure to leave some room for expansion when freezing. Likewise, do not overstuff the container with food to avoid spilling and damage to the lid.
You can find glass food storage containers in many sizes. This allows you to choose containers for diverse types of food.
Proper storage can help maintain the quality and taste of food. You can achieve this by following a few important steps.
Storing and cleaning the storage containers
When storing glass containers, avoid stacking them too heavily, as it can lead to breakage. Make sure that you have plenty of room inside your freezer or refrigerator. If it is needed, you can make room by removing a few items.
Cleaning and maintaining the containers is equally important for food safety. Make sure to clean the containers regularly and look for damage.
The bottom line
Storing food in glass storage containers is a safe and reliable method. By following the best practices, you can ensure the safety and longevity of your food as well as the glass food storage containers.
Helton Tool & Home is your destination for buying the best-quality food storage containers at the best price. Choose from the top brands and suppliers without worrying about the cost.
Check out the food storage containers.