Some meals just scream "spring." Cooking seasonally allows you to save money on produce that's more readily available, and certain recipes help get you in and out of the kitchen in no time so you can enj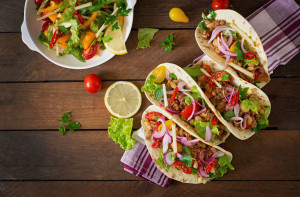 oy the longer daylight hours and nicer weather. Here are some things to add to your spring menu.
Chicken and spring veggie bake: Roasted chicken thighs and a combo of potatoes, radishes, and scallions is a delicious way to end your day. Sprinkle with olive oil and seasoning and pop it into the oven while you hang out on the patio or do some spring cleaning until it's hot and ready.
Pasta salad with chicken: Nothing beats a delicious chilled pasta salad with fresh vegetables and shredded chicken. Cucumbers, celery, tomatoes, onions, and pickles are the perfect mix-ins to a chilled bowl of pasta. Toss with olive oil and Italian seasoning and a scoop of cooked, shredded chicken for a refreshing, one bowl lunch or dinner.
Grilled chicken skewers and asparagus: It's not too early to break out the grill. Bring the heat of summer home with grilled chicken and veggie skewers and some fresh grilled asparagus. You can cook the asparagus quickly by placing right on the grill surface and sprinkling with olive oil, salt, and lemon.
Chicken fajitas: Cooking up slices of chicken breast and adding in peppers and onions with some cumin, chili powder, garlic, salt, and pepper in a saute pan is a quick and easy filling for corn tortillas with cooling sour cream, fresh tomatoes, and cheese.
Shrimp scampi: Winter pasta dishes are usually drenched in creamy, warming, comforting sauces or baked in a casserole. For spring, a lighter pasta dish like shrimp scampi is a delicious dinner. Cooked linguine cooked in some olive oil and garlic with sautéed shrimp and topped with freshly chopped tomatoes and grated parmesan cheese is an easy, lighter way to enjoy all the comforts of a pasta dish.
Strawberries and cream: A simple spring dessert is chopped strawberries sprinkled with sugar and a dollop of whipped cream — a perfect treat to be savored on a patio or porch.
One of the secrets to a delicious spring meal – besides a good recipe and some seasonal products – is the right cookware. Our product lineup of pots, pans, Tupperware, dishes, and bakeware can help you make the most out of every meal, no matter the season.
Recent Posts
Corningware Classic Cookware Set is a popular choice for many households. This cookware set is made …

Are you searching for the perfect gift for a newlywed couple or a homeowner? Look no further than&nb …

Have you ever found yourself in a situation where you need to replace a Pyrex lid but need to know h …