Even in places with sunshine year-round, the fall season shows up with pumpkin-themed beverages, apple ciders, baked goods and cooler nights. Fall, then, is the perfect season for coziness. Here are some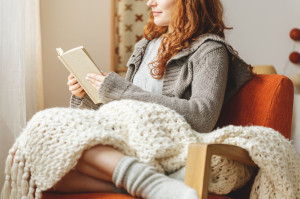 ways to make your home a bit warmer and freshen up your space for fall.
Light some scented candles: Fall brings out many of the best candles. Not only does a candle add some ambiance to space, it instantly adds some scent to your home. From pumpkin to apple to caramel to nutmeg, a lit scented candle is a small way to make a big fall gesture.
Use accent pillows and blankets: A small touch of fall color – yellows, tans, oranges, reds – can create a fall-feeling in any space. A blanket, particularly a knitted throw, can add literal and thematic warmth. Few things are more inviting and calming than a couch covered in warm cozy accents.
Sweep away the cobwebs: Halloween usually brings about a huge showing of spooky cobweb decorations. Inside, you can focus on sweeping out the literal cobwebs in your home. Spring cleaning gets all the seasonal cleaning attention, but fall is an excellent time to slow down and enjoy the season of change inside and outdoors.
Put some cinnamon on the stove: Filling a pan with water, apples and cinnamon and heating it up on the stove is a natural way to fill your home with warming, spicy smells. It's a perfect way to fill your home with a delicious, comforting aroma before an event or to start a relaxing weekend.
Take advantage of the fall season and use it as a time to create a home to keep you warm, cozy and happy in winter. Our site connects you with everything from comfy socks to bakeware for your fall spiced desserts. Check out our site to see our line of quality products that can help you create your happiest home this fall.