Finding the right tools can be tough. Not just the best tools for the job – but the best brand of tools, period. Tools are an investment, and most people are wary of spending too much on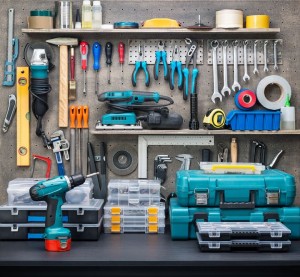 an overpriced gimmick or spending too little on something that won't get the job done or will break or wear out too quickly.
One way to find out which tool brands are worth trusting is to ask the experts what they use! They know from experience what tools will give you the most bang for your buck. Here are some tried and true brands of tools that you'll find in nearly every professional's toolkit.
Craftsman
Dewalt
Bosch
Hitachi
Ryobi
But aside from well-made, reliable tools from a recognizable, popular brand, what do you need to look for in a quality tool? Here's what the pros suggest:
Good warranty: Manufacturers will often back their tools with a warranty of several years – sometimes a lifetime warranty to protect against damage or defect. A solid warranty means that the brand knows that their tools are constructed to last.
Testing: Does the manufacturer or distributor allow you to test the product for a certain amount of time and return it if it doesn't fit your needs? Can you demo a product in-store and make sure that it feels right for your purposes? Testing isn't a requirement for a quality tool, but it can help you make the right choice.
Professional grade brands tend to perform the best and last the longest, and you can find most of the top, most-respected brands on our site. Shipping is always free to the lower 48 states and our 30-day return policy means there's no risk to you when you want to start stocking your toolbox with the best tools around. Get in touch with us to place your order today.
Recent Posts
Corningware Classic Cookware Set is a popular choice for many households. This cookware set is made …

Are you searching for the perfect gift for a newlywed couple or a homeowner? Look no further than&nb …

Have you ever found yourself in a situation where you need to replace a Pyrex lid but need to know h …