The fall season marks the both the end of summer and backyard BBQs and also the transition into the cozy holiday season. With the temperatures dropping, it's cool enough to turn the oven on again and enjoy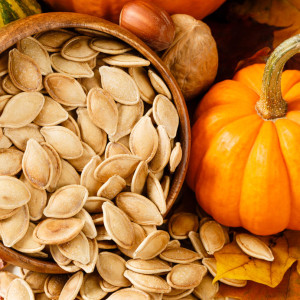 certain foods coming into season. Here are some of the best foods to enjoy this fall:
Brussel sprouts: Brussel sprouts are a delicious roasted side dish or fresh salad ingredient any time of year, but are quintessentially fall in many ways. With earth flavors and a crunchy, caramelized texture out of the oven, these vegetables are on top fall food lists everywhere.
Pumpkin seeds: Nothing is more traditionally fall than pumpkins. With all the recipes for pumpkin bread and pumpkin pie and pumpkin bars and pumpkin spice lattes, pumpkin seeds are often present but go under-appreciated. When carving up pumpkins for Halloween or to include in desserts, make sure to pop the seeds into the oven, roast them, and enjoy them all season long.
Spaghetti squash: Spaghetti squash is a versatile vegetable that can easily be used as a pasta substitute, roasted with butter and garlic, or used to make another delicious fall creation.
Apples: Apples are the sweet, crunchy fruit of the fall. They come into season in autumn and are at their best and most delicious during fall. They can easily be added to hearty oatmeal or pancakes for breakfast, baked into pies, made into tarts, or enjoyed in their fresh form.
Sweet potatoes: Sweet potatoes are delicious any time of year but especially in fall. Whether they're made into breakfast pancakes, added to chili, or smashed and baked with cinnamon or marshmallows on top, sweet potatoes are a fall favorite everywhere.
Pot roast: While technically a meal and not a standalone food, pot roast is a delicious dinner that can easily be put in a slow cooker or in the oven to fill the whole house with fall flavors and aromas. A large cut of meat, cubed potatoes, carrots, and onions are traditional ingredients, but you can add depth and dimension of flavor by adding other fall seasonal veggies, like parsnips and sweet potatoes.
What are your favorite fall foods or go-to recipes? Our collection of Pyrex cookware and storage containers make it easier than ever to cook your favorite meals, enjoying them right out of the oven and during the week as an easy lunch.
Recent Posts
Corningware Classic Cookware Set is a popular choice for many households. This cookware set is made …

Are you searching for the perfect gift for a newlywed couple or a homeowner? Look no further than&nb …

Have you ever found yourself in a situation where you need to replace a Pyrex lid but need to know h …