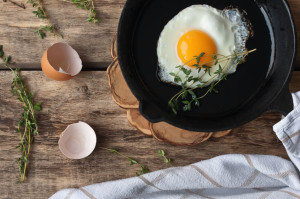 Nonstick pans and bakeware are found in just about every kitchen these days and they have a lot going for them.
Easier clean up: As their name indicates, nonstick pans typically prevent most cooked-on food from sticking around too long. That makes cleaning up a lot easier, and it makes nonstick pans perfect for kitchenware known for being tough to clean, like eggs, pancakes, and cheesy quesadillas. Nonstick bakeware can be a baker's salvation if you've forgotten to grease the cookie sheet. Overall, it makes cooking cleanup quicker.
No need to preheat: Stainless steel pans are known for their ability to brown food and are often oven safe. To achieve the best results with a stainless steel pan, one needs to heat the pan before adding food. Not so with nonstick cookware. There is no need to preheat.
Less oil: The nonstick coating on nonstick pots and pans allows you to use a lot less cooking oil when cooking on the stove and less cooking spray when baking. For health-conscious cooks or people with an aversion to grease, this is a huge plus.
Still, nonstick pans aren't the best choice for cooking everything and some versions aren't as durable as stainless steel products. When it comes to cooking things that should have a sear, its best to use a pre-heated stainless steel skillet. Stainless steel pans also don't have a nonstick coating that can potentially flake over time, so while they often require more elbow grease to get them clean, they can last some cooks a bit longer.
Great kitchens have both. For a more versatile cooking experience, check out our selection of pots, pans, and bakeware to keep your kitchen stocked for any situation.
Recent Posts
Corningware Classic Cookware Set is a popular choice for many households. This cookware set is made …

Are you searching for the perfect gift for a newlywed couple or a homeowner? Look no further than&nb …

Have you ever found yourself in a situation where you need to replace a Pyrex lid but need to know h …